The last time I wrote about the Wet'suwet'en was January 2nd, RCMP Invasion expected on Wet'suwet'en territory. It's not that the RCMP have left, but there has been a change in tactics. The threat continues.
There's no question that I am guilty of painting on the street because the reason is so important.

Shawn Selway
We should all show up at these rallies when we are asked to do so by Indigenous people. Believe me, you will feel much better than reading a newspaper about more dead children being found somewhere.

Shawn Selway
Our first rally in support of the Wet'suwet'en was on February 7, 2020.
This is from the AFSC Midwest Digest, January 2022. Jon Krieg (AFSC), Patti McKee, Peter Clay, and I were among those at the rally to support the Wet'suwet'en at the Chase bank in Des Moines. (photos below)
Following is a statement from the Rainforest Action Network (RAN) in solidarity with the Wet'suwet'en peoples. I've worked with RAN since 2013 when I was trained to be an Action Lead in the Keystone Pledge of Resistance. The following relates to a letter to the editor I wrote that was published in the Indianapolis News about Indiana Senator Donnelly's support of the Keystone pipeline.

I was glad to be called a RAN activist.
RAN @RAN May 15, 2014
@ran activist @jakislin calls out @sendonnelly on willfully ignoring the dangers of #KXL a_ran.org/iS #NoKXL

Big banks are bankrolling this pipeline: Will you rise up and join the Wet'suwet'en to protect their land?
Right now, Wet'suwet'en Indigenous rights are under attack: Canadian paramilitary troops flew into Indigenous lands in support of fossil fuel giant TC Energy, and their 417-mile fossil fuel pipeline — without the consent of hereditary chiefs.
Wet'suwet'en hereditary chiefs are urgently calling out for massive global support. Will you take action in solidarity, Jeff?
The Canadian government and big banks like Chase and Royal Bank of Canada (RBC) are forcing disastrous oil pipelines on Wet'suwet'en territories and meeting peaceful protests with violence.
The Coastal Gaslink pipeline WILL have harmful impacts on water, wildlife, the Wet'suwet'en people — and on our global climate. In solidarity with them, tell big banks to stop financing Indigenous rights abuses.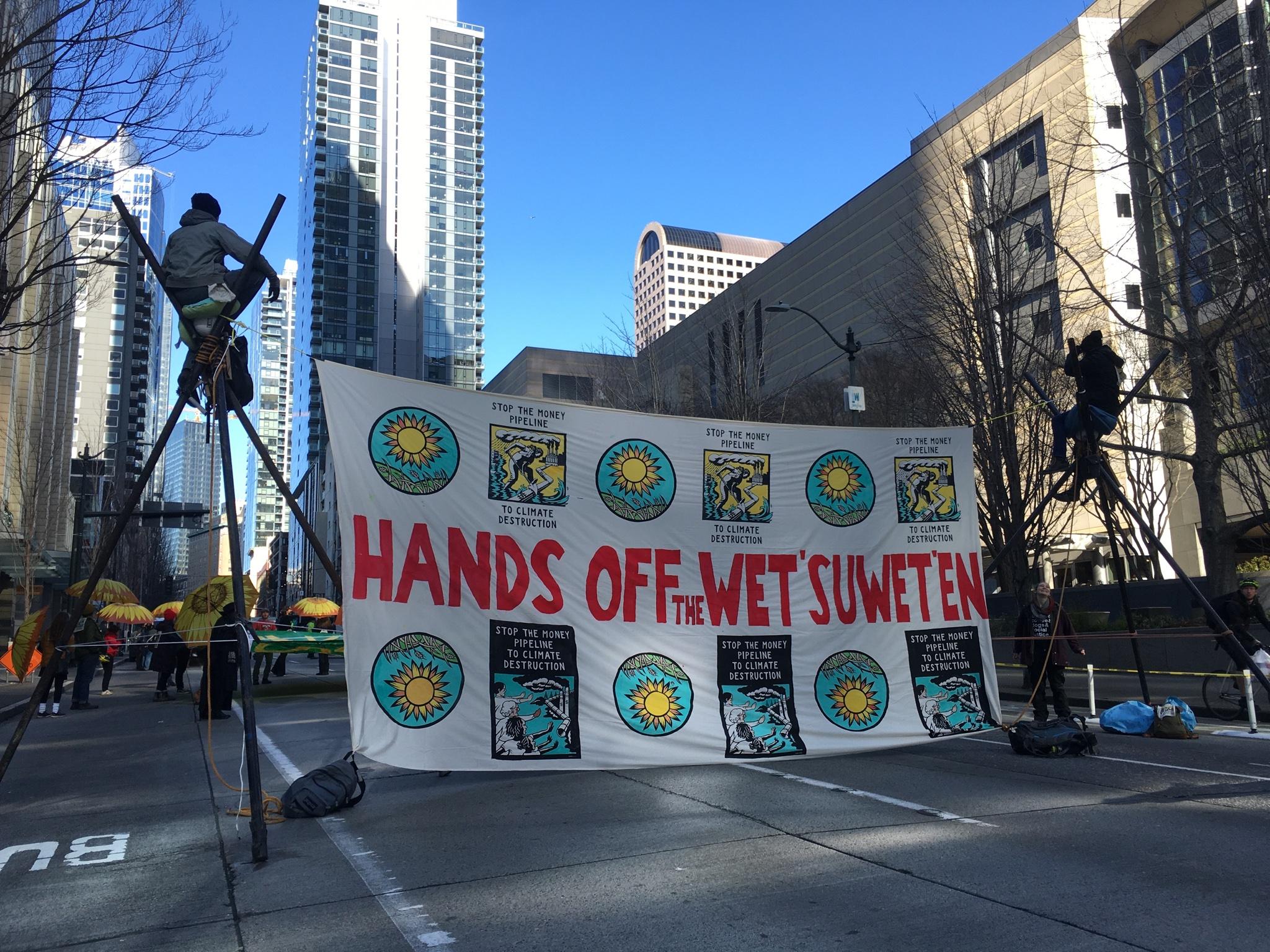 For the past twelve years, the Wet'suwet'en have asserted their sovereignty to stop fossil fuel companies from trespassing on their lands, and they have won. This community organized against two more huge pipelines and defeated them, and we know they can win. Coastal Gaslink is already way over budget. These banks know the investment is incredibly risky, and we have a chance to stop it.
Here in the U.S., we can support the Wet'suwet'en by fighting back against the financial backers of this climate-killing pipeline. Banks from the U.S. to Japan to Canada, including the #1 worst banker of fossil fuels JPMorgan Chase, are funneling BILLIONS in loans to TC Energy, the company behind Coastal GasLink. These banks are directly contributing to the destruction of sacred Wet'suwet'en land and the blatant violation of their rights.
The bankers behind this pipeline must be held accountable for their role in destroying Indigenous lands and fueling the climate crisis. Will you rise up and join the Wet'suwet'en to protect their land?
We won't let big banks destroy rivers, air, wildlife, and the climate while hurting people who are protecting what is rightfully theirs. There is no climate justice without Indigenous sovereignty, Jeff.
"You can't claim to be a climate leader and still allow a project that will be the largest point source of carbon emissions in our province. And you can't say you're adhering to the UN Declaration on the Rights of Indigenous Peoples when you clearly don't have consent from the actual title holders, and when you're in violation of the article that says Indigenous peoples can't be forcibly removed from their own territory."
ANALYSIS: Coastal GasLink, LNG Controversies Will Haunt B.C. NDP in 2022, Mitchell Beer, The Energy Mix, January 10, 2022
#RiseUpfortheFallen, #RebelForAction, #RebelForLife, #SeLeverPourNotreSurvie, #ActNow, – #AgirMaintenant, #TellTheTruth, – #DireLaVérité, #ExtinctionRebellionCanada, #ExtinctionRebellion, #XRTV, #XR, #IndigenousResistance , #alloutforwedzinkwa, #RCMPofftheYintah, #WetsuwetenStrong, #Cdnpoli , #BCpoli , #ClimateCollapse, #BiosphereCollapse, #DecolonizeBC, #RespectIndigenousSovereignty , #LandBack, #RCMPstanddown, #StopCGL , #StopTMX, #LeaveItInTheGround, #ClimateEmergency , #500YearsIndigenousResistance ,
Three years ago RCMP moved onto Wet'suwet'en territory, tearing down a barricade on a forest service road that blocked access to the planned route of the Coastal GasLink pipeline.
The single-day enforcement on Jan. 7, 2019, resulted in the arrest of 14 people, both Wet'suwet'en and their supporters. But it didn't bring a resolution to the dispute over the pipeline, opposed by Wet'suwet'en Hereditary Chiefs.
Since then, dozens more have been arrested under an injunction granted to Coastal GasLink, which is building a 670-kilometre gas pipeline from northeast B.C. to an LNG processing facility on the coast in Kitimat.
And the conflict has brought increasing internal pressure on the BC NDP government to find a new approach that better reflects its stated commitment to Indigenous rights.
About 75 people have been arrested in total on the territory, with RCMP enforcement criticized as heavy handed and oppressive. In February 2020, 28 people were arrested over five days at several locations along the road. This November, at least 30 more were arrested over two days at a camp on Gidimt'en Clan territory and a worksite where Coastal GasLink plans to drill under the Morice River, known to the Wet'suwet'en as Wedzin Kwa.
And for three years, RCMP have continued patrolling the Morice, establishing a detachment on the remote resource road and racking up a bill for policing that now exceeds $20 million.
As rumours swirl about plans for a fourth police raid on Wet'suwet'en territory, the B.C. government faces growing pressure from within the NDP to find a new approach, with federal MPs, riding associations and high-profile supporters all calling for change — and getting very little response from B.C.'s ruling party.
BC NDP Faces Internal Pressure to Change Course on the Wet'suwet'en Crisis. The calls come from New Democrats across Canada and within the provincial party's ranks by Amanda Follett Hosgood, TheTyee.ca, January 10, 2022
#wetsuwetenstrong